{{{name}}}
Season:
2
Episode:
{{{episode}}}
Production code:
{{{production}}}
Broadcast number:
{{{broadcast}}}
Broadcast Information
Original airdate:
TBA
International airdate:
TBA
Big Time Rush It Up is an upcoming episode of Shake it Up: The Future is NOW.
Ty books Big Time Rush to preform at Shake it Up, Chicago!.
Episode Summary
Edit
While BTR are in Chicago a mysterious message tells them to perform at your own risk not carrying they perform. During the middle of their concert the power goes out it comes back on all they see is Marcus on the big screen he starts talking then all the lights come on BTR is gone. Devestated the entire gang changes all their plans and make it their mission to find and rescues Big Time Rush not know what will happen and who will they meet.
Songs Featured
Edit
Confetti Falling by Big Time Rush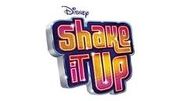 Just Getting Started by Big Time Rush
Get Up by Big Time Rush
This will be part 1 of a multinetwork crossover event.
BTR get kidnapped.
Featured Shows
Edit
Shake it Up (full cast)
Big Time Rush (Kendall Knight,James Diamond,Carlos Garcia,Logan Mitchel)
Lab Rats (Marcus Davenport)