{{{name}}}
Season:
2
Episode:
{{{episode}}}
Production code:
{{{production}}}
Broadcast number:
{{{broadcast}}}
Broadcast Information
Original airdate:
TBA
International airdate:
TBA
Break It Down, Chicago! It Up is a episode of Shake it Up: The Future is NOW.
After Snappy Sammy is released from jail, he opens up a studio and starts a new teen dance show called 'Break It Down, Chicago!, as a way to get revenge on the kids from Shake It Up, Chicago!, who got him arrested. After the show airs and becomes very popular, Rocky, CeCe, Tinka, and Ty start to worry about the fate of their show. Meanwhile, Flynn and Logan compete in a tournament to see which one of them is the better skateboarder.
Episode Summary
Edit
Rocky and Cece are at the house watching TV, when they find a channel with a show called 'Break It Down,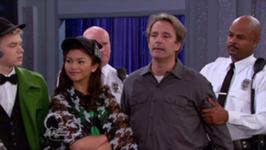 Chicago!', hosted by Snappy Sammy. They are both worried at first, but Ty and Tinka tell them that there is nothing to worry about. But after BIDC! starts to become very popular, causing SIUC! to get lower ratings, they all decide that there is something they have to do about the new show. So they challenge Snappy Sammy's dancers to a dance off in front of a live audience, and make a bet that the loser team's show goes off the air. After everything is set, each team practices for the dance off. But Sammy has his dancers sneak into the SIUC! studio during rehearsals, and had them turn off the power. The lights go out while the dancers were performing, and almost all of them crash into each other and get hurt, causing half of the dancers unable to dance at the dance off. The dancers still able to dance included CeCe, Rocky, Tinka, Ty, and a few other background dancers. Rocky at first said that they had to forfeit, but then Cece came up with an idea on how they can still win. At the dance off, SIUC! did a glow in the dark performance, like the performance in the beginning of
Shake It Up, Up, And Away
, but it also had fog, and flashing lights. Even though the dance was done with barely any dancers, their performance was enough to win the crowd over, and they won the dance off, while Snappy Sammy lost and his show was taken off air.
Meanwhile, after getting into a fight at the park, Flynn challenges Logan to a skateboarding tournament. At first Logan wasn't threatened, but after secretly watching Flynn practice, he starts to teach himself how to do insane tricks on his board. And after seeing Logan practice, Flynn starts to try new things. While each of them practiced, they fell of their boards several times, hurting themselves. So when they compete during the tournament, they are both sore and tired. So while the were both trying to do their new tricks, they both collapse at the same time. The apologize to each other for fighting, and agreed that they were both awesome skateboarders.
Songs Featured
Edit
Main Cast
Bella Thorne as CeCe Jones
Zendaya as Rocky Blue
Davis Cleveland as Flynn Jones
Roshon Fegan as Ty Blue
Caroline Sunshine as Tinka Hessenheffer
Recurring
Edit
Leo Howard as Logan Hunter
Eric Lutes as Snappy Sammy
Adam Irigoyen as Deuce Martinez
Kenton Duty as Gunther Hessenheffer
This is the first time we've seen Snappy Sammy since Whodunit Up.
In this episode, Shake It Up Chicago has a new rival, Break It Down Chicago.