My way of Shake it Up's Future it Up!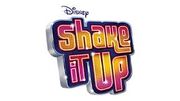 Rocky comes back to New York to celebrate the reunion of her school she comes back to find Deuce and Dina having a baby girl and finds Cece with a child called Justin and married to Gunther who returned from the old country 10 years ago! And she also finds Tinka and Ty married with children who are now teenagers. Everyone else find out Rocky is married to Logan with a baby boy and a girl who is 8 years old. Dina and Tinka suggest that Rocky and Cece dance one more show on Shake it Up! Chicago for the sake of dancing but they have a fight about who is more successful in the end everyone dances on Shake it Up! Chicago and everyone goes back to their city.
The gang all come back to Chicago to celebrate the school's reunion and dance one more dance on the Shake it Up! Chicago stage.
This episode is about the future                                                                                                                       Ty and Tinka are married have teenagers                                                                                                     Cece and Gunther are married happily with a boy called Justin                                                                   Rocky is married with Logan and has two children.                                                                                             Dina is pregnant and have 8 kids and is married to Deuce.